Banks Engineering Photos (click photo for larger image)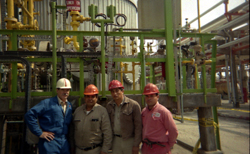 Above, Dan Banks with Pemex Refinery Operators - starting large Claus Sulfur Plant Off-Gas Incinerator. Callidus Technologies design at Tula, Mexico.
Chlorinated Silane Incinerator System - pre-shipment checkout. Unit was shipped to Oregon after partial disassembly.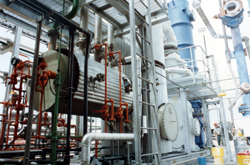 Above, Chlorinated Waste Gas Incinerator System - Dan Banks Design. Carbon steel construction with Inconel waste gas hardware.
Liquid Seal Flame Arrestor - Dan Banks design. Separate water circulating sprays to avoid fouling of demister internals.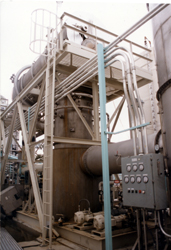 Geothermal Incinerator Flue Gas Quench System details - Dan Banks design. All 316 stainless due to SO2, SO3 in flue gas.
Dan Banks with wood treating plant Maintenance Manager - scrubber based odor control system.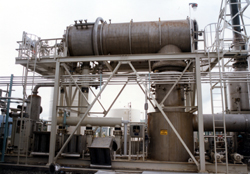 Geothermal Off Gas Incinerator System - Dan Banks Design. Horizontal elevated furnace with staged waste gas injectors visible at the left end.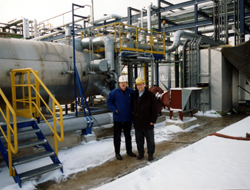 Dan Banks with German Chemical Plant Manager - startup of bound-nitrogen off-gas incinerator (John Zink Co. design)